ClearOS vs. SBS 2008
Collaboration and productivity
Here, SBS has a clear lead. ClearOS, while it includes Kolab Groupware, doesn't have a real answer for Windows SharePoint Services 3.0. If your office is sold on SharePoint for working on joint-projects, you're not going to want ClearOS.
Database
ClearOS moves ahead though when it comes to databases. Besides including the popular MySQL, the server includes the full set of Linux developers' favorite Web development languages, Perl, PHP, and Python. SBS Standard has no answer at all to this. If you want a DBMS, Microsoft SQL Server 2008 Standard for Small Business, you'll need to shell out more money for SBS 2008 Premium Edition.
E-mail
SBS uses Exchange Server 2007 Standard Edition for e-mail and basic groupware functionality while ClearOS use Kolab for the same purposes. While both programs will let you use Microsoft Outlook for a client, Kolab doesn't offer all of Exchange Server's features. On the other hand, if you just want full-featured e-mail functionality and your office isn't married to Outlook, Kolab will do just fine. If you want a more complete Exchange replacement, you'll need to look at other server programs such as Zimbra or Open-Xchange.
Anti-virus and anti-spam
Both include anti-virus programs to guard your e-mail users. ClearOS uses Clam AV while SBS uses Forefront Security. Forefront also provides some anti-spam protection, but, for my money, SpamAssassin, which ClearOS includes is the gold-standard for server-based anti-spam protection.
File & print
For basic file and print, the two offer similar functionality. ClearOS can work in a Windows domain or AD (Active Directory) network. I tested this out on my own hybrid domain/AD network which uses SLES (SUSE Linux Enterprise Server) 11, Windows Server 2003, and Server 2008 R2 for its main servers. Thanks to Samba, ClearOS' file and printer shares were immediately available to my Windows PCs. Besides Windows and Samba's' SMB (Server Message Block) file-sharing though, ClearOS also supports ftp and FlexShare, which provides a single way to handle file transfers over SMB, ftp, or e-mail.
Network Services
While SBS and ClearOS both support some of the most common network services, such as DNS (domain name server) and DHCP (dynamic host configuration protocol), ClearOS offers a far greater number of valuable network services such as a choice of VPNs and security features such as intrusion-detection and advanced firewall protection.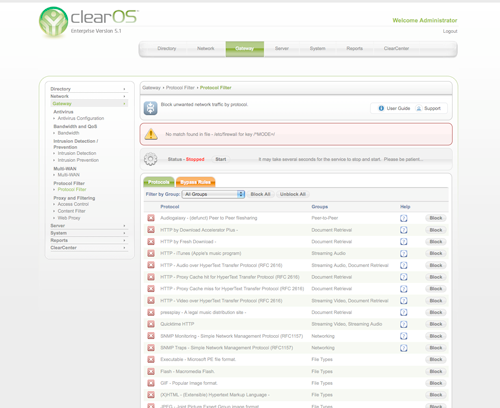 ClearOS gives you all the control you could want over your mini-company firewall. (Click here for full-size image.)
Web server
SBS used to include a Web server, Microsoft's IIS (Internet Information Server), now though it connects users to Office Live Small Business, a Microsoft Web hosting service. ClearOS, as you might guess if you know anything about Linux, includes Apache. It also includes the Squid Web proxy server and web caching program so that users insider your network can get faster access to frequently accessed Web sites.
Conclusion
ClearOS isn't for everyone. A small office with a sophisticated IT tech may find that rolling their own server combination with Novell's small business Linux server would give them more flexibility. On the other hand, if you know something about networking, but not Linux, ClearOS is a fine choice.
As for SBS, I'll put it to you this way. SBS Standard 2008, with five CALs (client access license) now costs $1,089. If you want the database with that, you'll need the Premium Edition, which will run you $1,899. ClearOS' price? Free. Zero. Nothing. Oh, and you can have as many users as your server can take before its hardware starts melting down.
You can see for yourself though if ClearOS is for you. You can simply download a fully working copy of the operating system for yourself.
You can also download a trial copy of SBS 2008 if you want to do your own compare and contrast of the two.
As for me, I'd install ClearOS for a client without any hesitation. It's easy to set up, it will be easy for them to maintain, and it will give them all the server most small businesses will ever need.