3. Joining a Virtual Jury
Summon your inner Judge Judy, pals: It's time to head to court. Virtual court, that is.
Confused? Here's the scoop: A growing number of sites are now offering cash if you'll help lawyers simulate a trial. And you can even do it in your pajamas.
"Attorneys for years have thought they're kind of psychologists when it comes to picking juries," explains Chris Bagby, founder of eJury.com. "The more demographic background we can get them about each juror, the better off they are."
eJury and other similar sites assemble region-specific pools of people to review cases, ranging from a couple of pages to more than a dozen, and then give their opinions on a handful of questions. This gives lawyers insight into how different members of a real jury might respond to arguments when the case actually goes to court.
"It helps them prepare for trial and hopefully present a better case to the jury," says Bagby, himself an attorney with 18 years of practice under his belt.
eJury varies its pay based on how involved each case is. An average case can earn you around $5 to $10.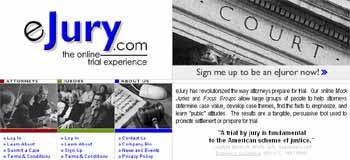 Next page: Being an Online Life Coach