United States Postal Service
The United States Postal Service's Product Tracking System (PTS) runs on Linux mainframes. In 2009 they migrated from over 1,300 Sun Solaris servers to HP mainframes running SUSE Linux. As a result costs went down and performance and capacity went up, tracking over 40,000,000 transactions every day.
The USPS is not new to Linux, and has been using it in key roles for years. In 1997 they migrated their OCR (optical character recognition) mail-sorting from Digital Equipment VAX systems to 900 commodity x86 Linux systems at 250 sorting centers nationwide. The OCR system has to read handwritten addresses, and the Digital Equipment systems were not up to the job. The Linux systems, which are stripped-down with custom kernels, can read both machine print and handwriting, do zip code lookups, and capture grayscale images at high speeds. They could do this even back in the late 1990s. The Linux PCs are faster, more accurate, cheaper, and considerably more flexible, as both the software and hardware can be upgraded and modified inexpensively.
Alek Komarnitsky's Christmas Lights
Back in 2002, Alek Komarnitsky perpetrated a little Christmas prank. He set up a Web server and claimed that site visitors could watch his Christmas lights in real-time via Webcam, and control his Christmas display by clicking buttons on the Web page. But it wasn't so. In reality, he had set up a simulation with a series of still photos that changed frequently, giving the impression of remote control. There was no Webcam and no remote control. But the news media got wind of the story, and were all over it without bothering to do any fact-checking, and happily reported it as real. The high point of the hoax was when Alek got a ride in an ABC news helicopter over his house, with his wife inside manipulating the lights.
The story went global, so Alek had to come clean and confessed the truth to the Wall Street Journal right after Christmas in 2004.
But for 2005, he decided to make the remote controls real, and so he did, using X10 controls, three Webcams, and a LAMP stack. These control tens of thousands of lights and inflatable characters like Homer Simpson, Santa, and the Incredible Hulk. He also set up a live Webcam in his Santa's Workshop. He calls it Alek's Controllable Christmas Lights for Celiac Disease, because it has evolved into a fundraiser for the University of Maryland Center for Celiac Research. To date he has raised over $60,000.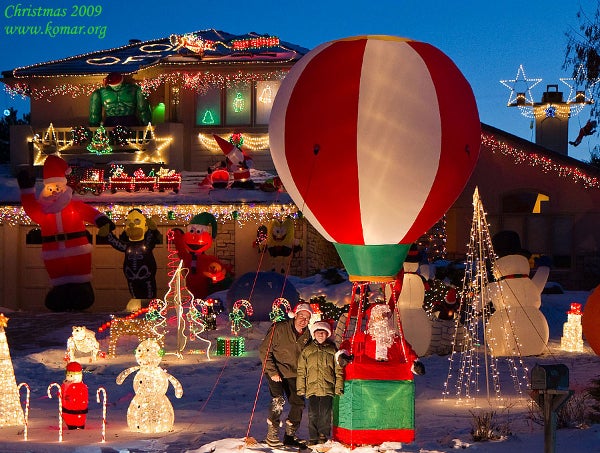 The site is active from post-Thanksgiving to Christmas, and for fans who can't get enough there is also Alek's Controllable Halloween Decorations for Celiac Disease. This has a fun cast of characters like a herd of Grim Reapers, Sponge Bob Squarepants, pumpkins, ghosts, skeletons, and more Incredible Hulks. For Halloween, Santa's Workshop is transformed into the Haunted Office. It is all about having some fun, and raising money for medical research.
This article, "4 strange places to find open source," was originally published at ITworld. For the latest IT news, analysis and how-tos, follow ITworld on Twitter and Facebook.