As headlines seem to almost gleefully declare the death of e-mail, it may be worth taking a pause and asking the most obvious follow-up question:
What would a post-e-mail world look like?
For all of the declarations on the demise of e-mail, not much attention has been given to how communications would function in such a world.
[ Related: Is Facebook the enemy of SMS? ]
It is a demonstrable fact that e-mail use is plummeting amongst younger people -- among 18-24 year olds, the drop may be as large as 34 percent -- in favor of other electronic means of getting the message out, such as microblogging, instant messaging, and social network communications.
For many pundits, it has been easy to look at stats like these and presume that as these college-age social media mavens roll into the work force, their habits will lead to a corresponding reduction in e-mail use within the corporate ecosystem.
But it's not just the rise of social media that's creating the buzz about e-mail's impending doom.
"Possibly part of the story can be around the death of e-mail as a method of sharing," said Matt Richards, VP Products at ownCloud, a storage service start up. "It used to be you shared everything over e-mail inside a company. Then came a proliferation of data, new file types, file size limitations, audit trails, auto-delete policies, new devices, difficulty finding files later, retention policies, and file type limitations -- these all made e-mail a clunky way to simply share files with friends and coworkers.
"Enter file sync and share," Richards added, which offers a clear alternative to the file-sharing use of e-mail. But even that has issues: "Problem is, IT needs the same sort of control they had with e-mail in this new era, and is struggling to find it," Richards said.
Still, there are compelling marquee examples of companies like Atos, an IT services company with about 75,000 employees that hopes to completely phase out internal e-mail by the summer of 2013. The company is making the switch by relying on IM-based communications and wiki pages for messaging and file sharing.
As an IT services company, Atos may be uniquely positioned to implement a pilot program such as this. But for companies that are less technically prepared, is such an extreme solution even viable?
Jürgen Geck, CTO of Open-Xchange, which specializes in communications and collaboration tools, has his doubts. For Geck, many of the alternative solutions to e-mail -- Twitter, Facebook, Google Docs -- have their advantages, but also some glaring deficiencies.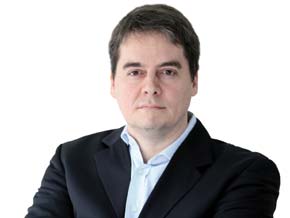 To see the problems with e-mail alternatives, Geck explained, it's important to define all of the functionality that e-mail currently provides: the messaging has to be robust and relatively unlimited, secure, and able to document conversations and message threads completely. In Geck's opinion, these are functions that simply must be provided by any e-mail replacement, and currently no one service will provide them. Twitter's character limitations prevents robust communications, and Facebook and Google offer businesses much poorer security for exchanging business documents. And no alternative provides complete and unalterable archival capabilities.
"Neither Facebook nor Twitter will replace e-mail," Geck said. "They bring more channels to users already sick of staring at noise for too long."
Geck looks at the so-called demise of e-mail with a large amount of skepticism.
"I personally feel that e-mail will not go away," he emphasized.
It would be easy to take Geck's declaration with a grain of salt -- after all, he works for a company that specializes in the delivery of e-mail messages. But he makes it clear that he's not a luddite trying to protect his own interests. Geck sees huge changes on the horizon -- changes that will not replace e-mail, but perhaps irrevocably alter it to something we'd barely recognize.