These days, Android is more than just a platform: It's a club, a culture, a way of life. Android fans are into it, man, and they're itching to show off their mobile-minded pride.
From gadgets to knickknacks and clothing to jewelry, there's no shortage of eye-catching Android swag out there. Here are some of the most interesting, unique, and memorable items around.
(Note: Prices and availability are accurate as of the writing of this story and may change over time.)
1. Squishable Android
What better way to show your love for Android than with a giant huggable green robot dude? The Squishable Android takes the familiar Android mascot ("Bugdroid," as he's officially known) and puts him in a soft plush form that's sure to grab attention and affection. If you really want to get wild, try using him in place of your desk chair; I promise he won't mind.
Available from Squishable.com for $39; also available in smaller Mini ($19) or Micro ($8.50) editions or as a humongous bean bag ($138).
2. Android Cookie Jar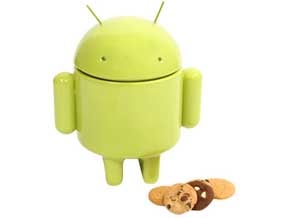 I don't know about you, but this ceramic Android cookie jar combines two of my favorite interests: Android and baked goods. (For some reason, no one's asked me to review a cookie yet. I need to work on that.) The Android Cookie Jar is 9 inches tall with a 6-inch-deep belly for storing all your sweet treats. Just don't blame me if you gain 20 pounds after putting him on your desk.
Available from GoogleStore.com for $35.15.
3. Honeycomb Speaker
Honeycomb may have been a transitional version of Android, but its robot-bee logo remains one of the platform's most memorable visualizations. Now you can show your Android street cred with a portable Honeycomb Speaker. The speaker is a winged Honeycomb bee with a USB connector. You can get it in red, orange, blue, white, or green; painful stinging sensation not included.
Available from BigCartel.com for $15.