Let the games begin!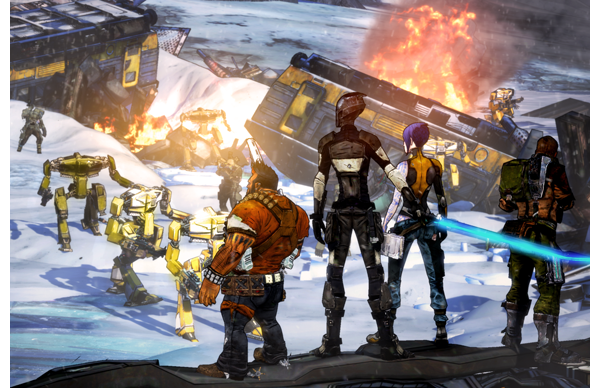 Summer is over, but PC gaming is about to heat up. Starting with Borderlands 2 (pictured here), there's a bevy of new games coming to PCs this fall, and many of them look good enough to merit serious attention. From complex tactical strategy games to fast-paced, modern military shooters and everything in between, chances are there's a game coming out soon that will be perfect entertainment for all your holiday "down time." Have a look at this gallery, and tell us what you think in the comments section. Did we forget any critical nuggets of awesomeness?
[ FREE DOWNLOAD: 6 things every IT person should know ]
Borderlands 2
The original Borderlands was a sleeper hit in 2009, earning critical and commercial acclaim for offering players an addictive first-person combat experience that could be completed by up to four players cooperating together. Borderlands 2 seems to offer plenty more of what made the first game famous, including plenty of weird space monsters, complex skill and weapon upgrade systems, and plenty of frenetic action--all in a tongue-in-cheek mashup of future tech and old-fashioned spaghetti western sensibilities.
World of Warcraft: Mists of Pandaria
Whether you've been playing World of Warcraft since launch week or you've waited until now to check out the biggest subscription-based MMORPG in history, there's something for you to look forward to in the Mists of Pandaria expansion due to be released later this year. Players who purchase the Mists of Pandaria expansion pack gain access to the new Pandaren race, the new Monk class, and a new minigame that lets players pit their pets against one another in turn-based battles.
XCOM: Enemy Unknown
The seminal X-COM franchise of sci-fi strategy games has lain dormant since the last game (X-COM: Enforcer) was published back in 2001, but die-hard PC gamers who miss the trademark turn-based tactical gameplay of classic X-COMs should keep their eyes peeled for XCOM: Enemy Unknown in early October. It's being developed by Firaxis Games, a veteran studio responsible for classic PC games like Alpha Centauri, and promises to deliver what PC strategy gamers crave.
Medal of Honor: Warfighter
PC gamers don't have too many modern military first-person shooters to look forward to in the latter half of 2012. If you're anxious to step back into the boots of the Tier 1 Operators who fought through a fictional Afghanistan in the previous Medal of Honor game, you're in luck. Warfighter continues their story and offers you the opportunity to battle through Somalia, the Philippines, and other exotic locales rendered with the Frostbite 2 game engine. Frostbite 2 is a powerful piece of tech that powers beautiful games like Battlefield 3, and serious PC gamers with beefy machines will be able to push their systems to the max when Warfighter hits shelves in late October.
Assassin's Creed 3
The fifth (and hopefully final) game in the Assassin's Creed series takes protagonist Desmond back to the past to stalk the wintry woods of Colonial America as Connor Kenway, a young man of English/Native American ancestry who gets pulled into the ancient struggle between Templars and Assassins at the height of the Revolutionary War. PC gamers with beefy rigs can look forward to putting their machines' graphical capabilities to the test as they roam around a sprawling swath of simulated New England.
Need for Speed: Most Wanted
Don't get confused by the name of this action-packed racing game; while there was a Need for Speed: Most Wanted game released back in 2005, this version is a completely new game, developed by Criterion Games (the studio that made the excellent Burnout games). As with the last Most Wanted game, players can look forward to selecting a souped-up sports car and competing against other racers and the cops in street races and highway chases to be first across the finish line.
Call of Duty: Black Ops II
This is the other big first-person military shooter for PC gamers to look forward to this fall, but while Medal of Honor is sticking close to a contemporary setting the sequel to Black Ops is looking towards the future. Players return to the story of Alex Mason as he fights through the Cold War, and then step into the boots of Mason's son as he struggles to survive cyberwar between China and the United States in 2025. Of course, competitive players appreciate the return of the series' signature multiplayer modes, including an eight-player co-op zombie mode.
Disney's Epic Mickey 2: The Power of Two
The lion's share of great PC games involve conflict resolution through combat, trickery, or skulduggery, so it's refreshing to see a beautiful game coming to the PC that features a beloved cast of characters solving puzzles with paint, thinner, and charm. This sequel to Disney's Epic Mickey features cooperative play between Mickey Mouse and Oswald the Rabbit (who sways enemies' minds with a remote control and flies around by flopping his ears), new Disney worlds to explore, and what may be the first musical numbers ever featured in a PC game.