7 days with the Amazon Kindle Fire HD: Revealing its inner power-tablet
Setting up Amazon's consumption device as a productive Android tablet isn't for the faint of heart.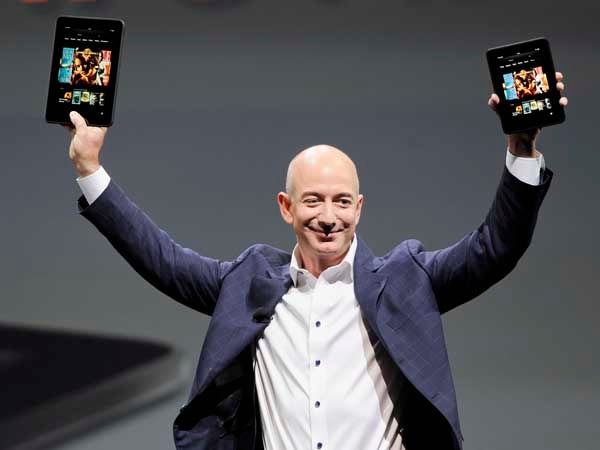 Out of the box, my Kindle Fire HD was far from the Android tablet of my dreams. At first blush, it seemed like nothing more than a front-end to Amazon's content ecosystem. The lack of any additional value or personalization options and the limited apps on the Amazon Store were jarring. Over the course of 7 days, I spent a lot of time with the device, trying to figure out ways to make it more than a shopping and consumption device. Along the way, I found some very basic (but important and sometimes well-hidden) settings as well as more advanced steps to make the Kindle Fire HD do what I want.
Day 1. Some basic settings
Setting up the Kindle Fire HD for the first time worked well: The tablet came linked to my Amazon account and all eBooks I previously purchased on the iPad Kindle app synced automatically.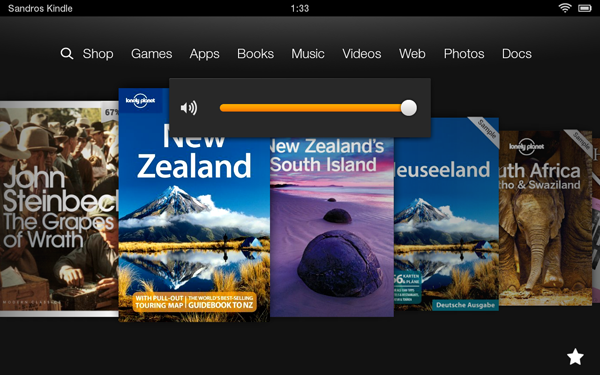 If you use tablets primarily for reading eBooks or watching movies, you're in luck. The Kindle Fire HD does this remarkably well and easily. But since I use tablets primarily for browsing the Web, my first order of business was to set my default search and browse options.
Search
Amazon has teamed up with Microsoft and set Bing as the default search engine on the Fire HD. Bing is fine, but if Google is your search engine of choice, you can set it as your default by firing up the browser, go to the menu icon, then go to "Settings". Tap on "Search engine" and change it to "Google". Done.
Browse
I also found that the Kindle sometimes displayed the smartphone (mobile) version of certain websites and not the full version, which the Fire HD certainly handles well. Setting the "Requested website view" (found under Settings) from "Automatic" to "Desktop" will fix this in most cases.
Day 2. Getting productive
Email is on the top of my list when it comes to being productive on a tablet. Support for Microsoft Exchange makes it quite easy for me to get my business mail on the tablet: You'll find it under "Apps" and "Mail". Using the most common email providers requires no more than typing in username and password. Thankfully the Exchange client wants only the name of the Exchange server, username and password - that's it.
By default, the email client only syncs email traffic dating back a month. To get email that dates further back, go to "Settings", tap on your email account name, scroll down to "Store messages" and select the "Forever" option, which will sync all folders and all emails (make sure your Kindle Fire HD has the necessary space!).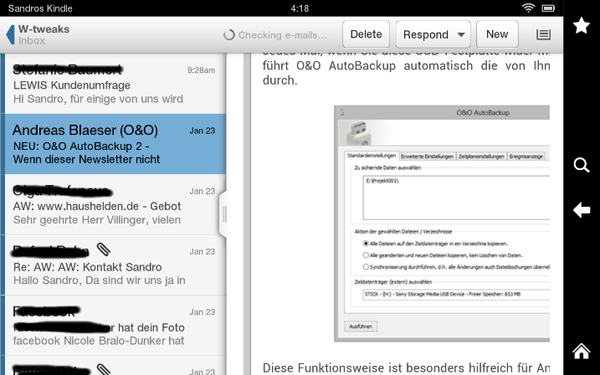 Day 3. Improve battery life on the road
The first time I took my Kindle with me on a long train ride, it died after about a combined 6 hours of TV watching. Suffice it to say, I expected more. My iPad usually gives me 8-9 hours of viewing time. Here's what I did to boost battery life:
Brightness: Lowering the brightness setting to about 70% made a difference of about 45 minutes.
Bluetooth and Wifi: If you're not using a Bluetooth keyboard (or other BT peripheral), you might as well turn off Bluetooth. And when you're on the road, watching a movie or reading a book, there's not much sense in having the Wi-Fi chip and antenna constantly on. To turn them off, swipe from the top of the screen, tap on "Wireless" and turn off both Bluetooth and Wi-Fi. In my tests, this added another 45 minutes.
GPS: Turning off GPS also added a couple of minutes to overall runtime. To do this, fire up "Settings" and go to "Location-based Services" and select the "Off" modes for both "Enable Location-based Services" and "Location & Google Search" settings.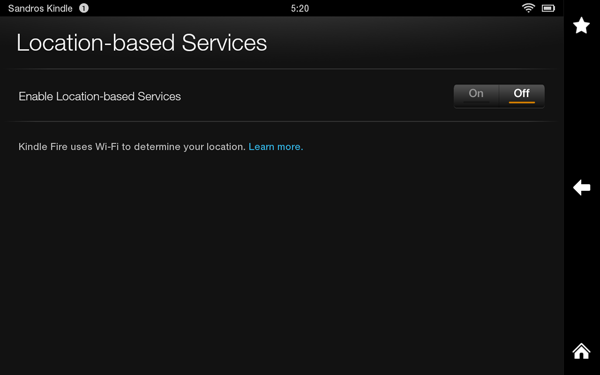 Email syncing: By default, Kindle's email app tries to update your inbox every 15 minutes. Each of these checks consumes a bit of battery power. Personally, I'd rather have the email app sync when I'm actually using the email app. (See Day 2 for more on email syncing.)
Overall, I got another 2 to 2.5 hours out of the device just by turning off some features I don't need when consuming content.
Day 4. Come on, get app-y
Today I wanted to record myself and upload a video using on YouTube. Turns out, this isn't as easy as I had assumed. The Kindle Fire HD has a front-facing camera, but it's (apparently) only available in some apps (such as the Skype for Kindle Fire app).
With a little trick, you can access the default Android camera app and use it for 1080p video recording and picture taking. Here's how that works: First, go to the Amazon App Store to download the ES File Explorer (any other Android/Kindle file explorer will also work).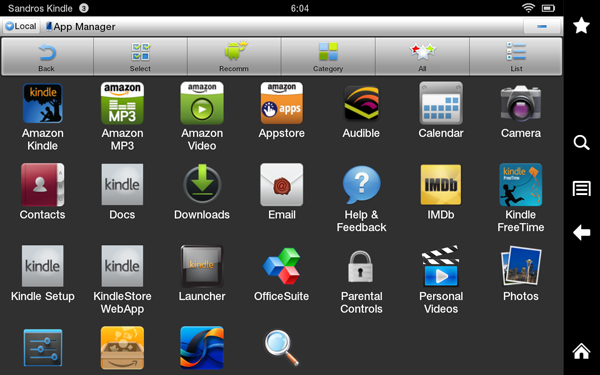 Open up the app and go to the "AppMgr" section, tap "Category" and then "System apps". Now you'll see the hidden Camera app (and maybe even some other apps that you missed).
Tap on the icon, select "Open". From now on the app will appear in the Kindle home carousel.
While we're on the subject of missing apps... The Kindle curiously lacks a dedicated YouTube app. While there are some third-party YouTube downloading and viewing apps in the store, I found a lot of them just weren't as good as the official YouTube app available for Android or iOS devices.
Fortunately, you can download the Android app if you enable sideloading. Here's how: Swipe from the top of the screen, tap on "Device" and make sure that "Allow Installation of Applications" is set to "On". Then, download the YouTube app on your PC (official app from here or the unofficial hacked HD version from here) and use Windows Explorer or Finder to copy the app to Kindle's "Download" folder. Unplug the Kindle and open any file manager. Jump to the "Download" folder, tap on the YouTube package and hit "Install":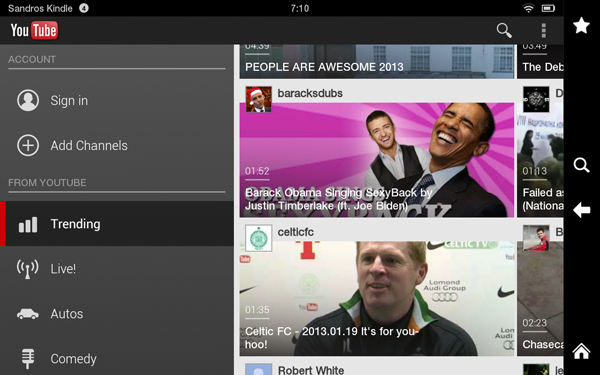 Day 5. Wait, no Flash?
I find Flash content as annoying as anyone, but a couple of my frequently visited websites still rely on it. To get Flash to play on your Kindle Fire, you'll need to jump through some hoops.
First, download the latest Flash Player APK from this thread or via the official Adobe archives. As with the YouTube app before (see Day 4), I had to copy it over to the "Downloads" folder and run it using a file manager app. Next, go get either the Dolphin Browser or Opera Mobile from the Google Play Store. Once Dolphin or Opera is installed, Flash websites should work just fine.
Day 6. More productivity, more fun
Working a whole day with the device, typing emails, editing documents and playing music, I quickly learned a few tricks that made the Fire HD more productive and solved some initial quirks:
Caps lock: Just double-tap on the SHIFT key and it'll turn into the caps lock key!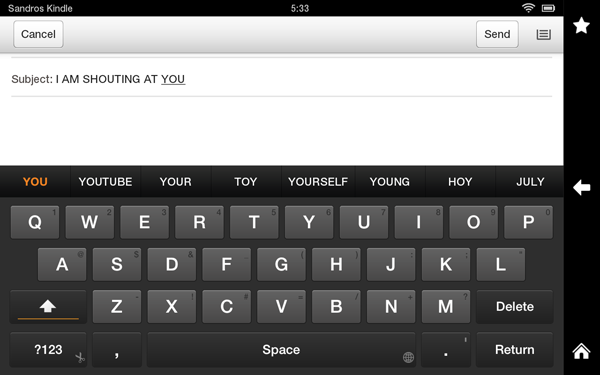 Dropbox: Wherever I go, I'd like to have constant access to my Dropbox folder. Since the official app isn't available on the Amazon store, I had to download and install it by going to the Dropbox for Android page and installing manually (no root required!).
iTunes: I have a huge iTunes library that I'd like to access from my Kindle. I'm sure there are other ways, but I used the Amazon cloud to stream my entire iTunes library to the Kindle. Note that this works only for unprotected AAC and MP3 files. Here's what I did: Download the Amazon MP3 Downloader, click on the "Cloud player" icon on your desktop and select "Import Music" from the website. This will install the Music Importer, which will let you upload part or all of your iTunes library to the Amazon cloud.
Closing open tabs: If you've got several tabs running in the Silk browser at the same time, there is no reason to tap on the "X" of each tab individually to close them all. Just tap and hold on the little arrow in the tab bar and select "Close all tabs."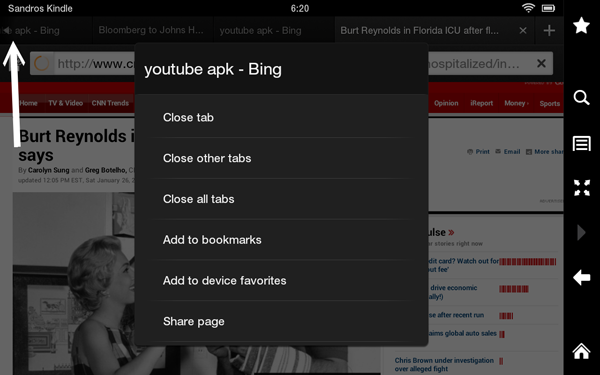 Day 7. To root or not to root?
I'd like to break out of the Amazon ecosystem and play around with all the apps from the Google Play store as well as install some apps that require rooting. Let's get one thing out of the way: Rooting the Kindle sounds much more dangerous and complicated than it actually is, thanks to some easy scripts that make this process as easy as a few clicks. Here's how I did it:
1. Make sure that the "Allow Installation of Applications" setting (see day 4) is enabled and that the USB debug mode is turned on ("Security\Enable ADB" to "On").
2. Connect your Kindle Fire HD to your PC and perform the following steps: Download the QuemuRoot_v1.0.zip and the Kindle_Fire_HD_ADB_Drivers.zip from XDA Developers. Also get the "Root with Restore" package. Unzip both files, each in a separate folder.
3. Install the Kindle Fire USB drivers first and reboot your system. If you're running Windows 8 and are facing problems, read this.
4. Open the "Root with Restore" package and run the "RunMe.bat" file. Select "Normal" mode. Now, watch your Kindle. It should ask for a full restore. Confirm by hitting the "Restore my data" button. Type in your password and confirm. After a few seconds, your device will reboot twice.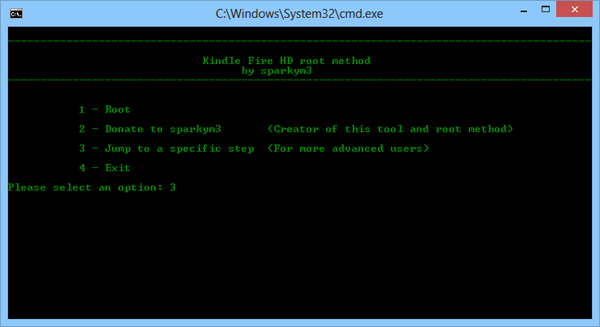 5. The procedure shouldn't take more than a few minutes. Once that's done, you should be logged in with the "Superuser" account -- you'll notice a new icon called "SuperSU" in the list of apps.
6. You're going to need to copy the following three files onto your Kindle Fire HD using your PC or Mac. Store them in your tablet's "Download" folder.
a. GoogleServicesFramework.apk b. Vending.apk c. GPlay.apk
7. As before, open a file explorer on your Kindle, go to the "Downloads" folder and run all three files in the order given above. Once that's done, you can fire up the Play store and log in with your Google credentials.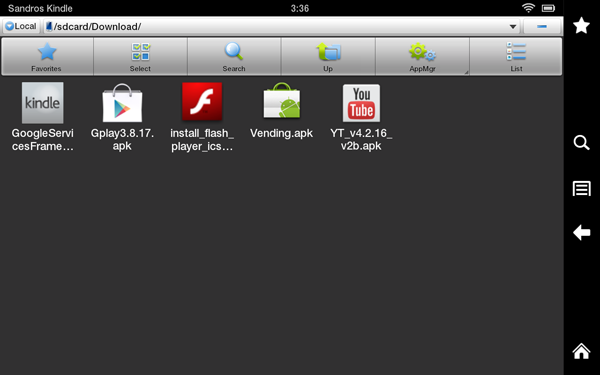 In my case, the Play store wouldn't let me sign on and crashed when I tried to launch it first. A reboot solved these issues. Finally, I was able to install ScummVM, Kaspersky mobile security apps and basically any one of the hundred of thousands Android apps on the Google Play store with no constraints.
All in all, with the power of the Google Play store, the root I performed and with some minor tweaks, the Kindle Fire HD finally became a device I could work on -- productively.
Shop Tech Products at Amazon