If you're in the business of making fun of technology companies, which I somehow fell into years ago and seem unable to escape, there has been no greater gift than MySpace.
Sure, AOL is like a clown car with an infinite number of bozos pouring out of the trunk. Yahoo's ups and downs have always been good for large helpings of schadenfreude (excellent when served with dumplings and a crisp Riesling). Microsoft has often been quite ludicrous over the years.
But MySpace has always been a motherload of geek comedy gold, from its well-earned reputation as a home for online predators, white trash teens, and strippers, to its painfully bad designs (and redesigns, and re-redesigns). The whole "Our logo is no longer MySpace, it's My_____" strategy was Onionesque in its absurdity, and watching Facebook totally kick it in the assets has been a guilty pleasure.
The fact that Rupert Murdoch et al bought it for $580 million and then dumped it five years later for $35 million still makes me chuckle. That the site was to be resurrected by a group headed by Justin Timberlake was just icing on the cake.
Today, though, I got invited to play with a preview of the new Timberlake-scented MySpace. And I am embarrassed to admit I kind of like it.
Granted, this is not your slutty teenage daughter's MySpace. This new MySpace is really aimed at Hollywood hipsters and wannabe's. The first clue? After I've signed in (using my old MySpace account, Facebook, or Twitter ID) it asks me what professions I identify with most: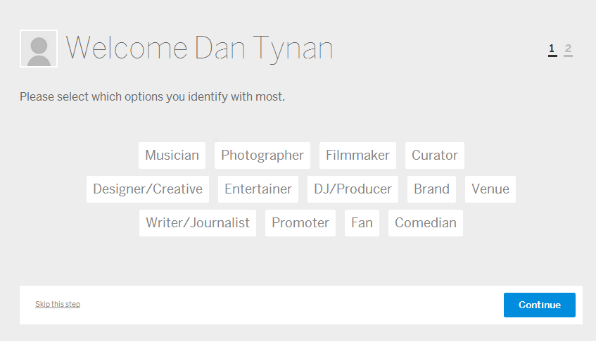 Note that Exotic Dancer is not one of the options.
I suppose one can identify with being a DJ/Producer without actually being one, or select "Fan," or just skip this step entirely. But I take this as a sign that Timberlake & Co really are trying to turn this into an industry/marketing venue and not a massive everybody's-invited social network.
Next, MySpace immediately starts recommending musical artists for me, whose songs I can play as I continue to click around the site. Note that the new MySpace scrolls sideways, not up and down – it's built for the widescreen monitors most bipeds use today. I find this pleasing for reasons I cannot explain.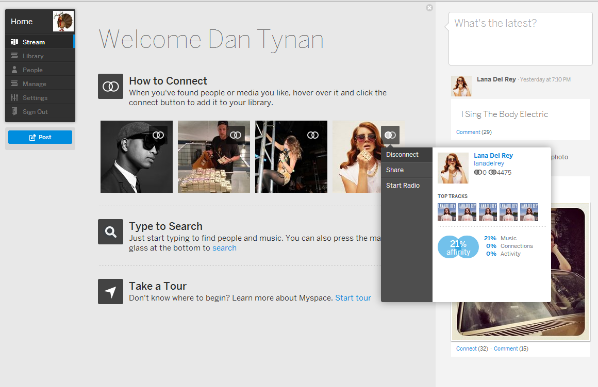 Suddenly I am listening to Lana Del Ray, with whom I share a 21 percent musical affinity, whatever that means. Since I have yet to identify any music I like, it is unclear how MySpace knows this. I am getting a strong suspicion that Justin et al. plan to make most of their money by putting people like Lana Del Ray in front of me and other MySpacers for a fee, but that's OK – I'm inured to that kind of thing by now. On the Internet, everyone knows you're for sale.
I click the Discover tab and then Trending, where I'm shown four articles all written by the same person about topics such as who are really the richest musicians (U2, if you can believe that), whether Bjork's swan dress is worth more than Madonna's breast cones (yes), and if Jack White is as big an a*****e as he appears to be. (Jury is still out on that one.) Are they great articles? No. But the presentation is pretty slick.
Under the People tab I am shown the profiles of five 20 somethings who are more uberhip than I could ever hope to be in this lifetime or any other. I wonder how much would I have to pay Justin to be featured in one of these profiles, and whether it would be worth taking a second mortgage.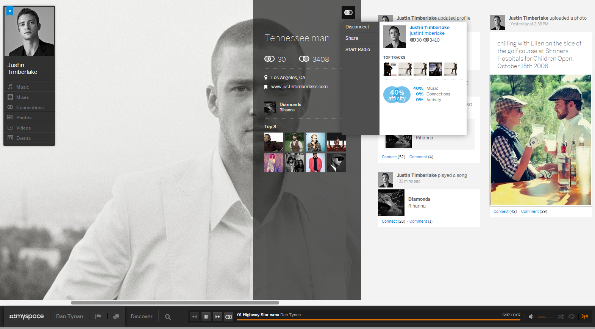 I decide to connect with Justin, because we have 40 percent affinity and I think with a little effort we can push it above 50. Connecting on the new MySpace is less like Facebook and more like Twitter – you just do it. Whether they connect back is up to them. (Correction: You can set your account to approve all incoming connections, if you want.) But I've got my hopes up with JT. I just have a feeling.
Of course, MySpace is still a social network, so you can upload photos, music and videos and share them with your peeps. (I notice that most of the music my new pal JT has shared is by – wait for it – Justin Timberlake.) I don't make music, so I uploaded a copy of Deep Purple's Highway Star, which was recorded before 99 percent of new MySpace's target market was born.
I have to say I'm having a pretty good time. I'm not getting jack done in terms of actual work. But as Web interfaces go, the new MySpace is impressive – and about 10,000 percent better than the old MySpace.
And then it happens. After about 15 minutes of messing around, the new MySpace crashes spectacularly.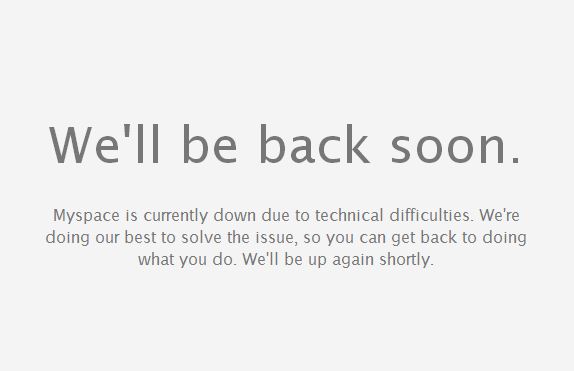 There. That's the MySpace I remember. It's nice to know some things won't change.
Got a question about social media? TY4NS blogger Dan Tynan may have the answer (and if not, he'll make something up). Visit his snarky, occasionally NSFW blog eSarcasm or follow him on Twitter: @tynanwrites. For the latest IT news, analysis and how-to's, follow ITworld on Twitter and Facebook.
Now read this:
Facebook's 'man in the middle' attack on our data
Q&A: Privacy Pioneer Ray Everett