In our last episode of TY4NS, I explored the exciting world of retail WiFi tracking. More specifically, I talked about how security vendor Fortinet was deploying devices using software from Euclid Analytics that collects data from shoppers using their smartphones' WiFi antennae.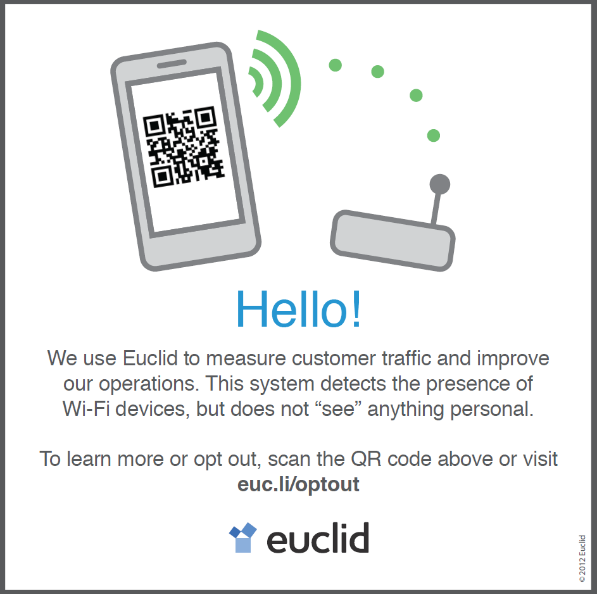 Today I spoke with John Fu, Euclid's director of marketing, who wanted to provide a reality check to some of the hypotheticals I presented in my last post. Are retailers really following you around like a store detective, recording the brands of beer you buy or the dainty underthings you've fingered? Not exactly.
[Attention shoppers: Retailers can now track you across the mall and Mickey Mouse knows what you did last summer]
"There are some powerful and potentially scary things you could do with this data if you wanted to," says Fu, "but I want to clarify that we are not doing any of those things. We anticipated these scenarios and came up with ways to prevent them from happening."
For example, when a sensor using Euclid's technology collects your device's MAC address, it creates a one-way hash of it and throws the address away so it can't be reverse engineered. Euclid doesn't track individuals through the store but instead aggregates the data of all shoppers, then presents it to retailers on a daily basis.
Most important, retailers who use Euclid's technology are contractually obligated to not combine the behavioral data they collect with information they have about an individual's identity, says Fu. The kind of anonymous aggregate data Euclid presents in its reports makes it nearly impossible for them to do so in any case, he adds.
Still, to make it harder for smaller stores to associate hashed MAC addresses with actual sales – say, by comparing time stamps on transactions or using security camera footage -- Euclid salts its data with a "statistically insignificant" number of fictional customers. It doesn't affect the overall reports, says Fu, but that does make it impossible to know with 100 percent certainty who anyone is.
Another thing I got wrong in the last post is that this technology isn't merely coming, it's already here. Euclid's technology has been deployed in well-known national clothing and department store chains, as well as smaller regional outlets. Most of Euclid's customers prefer to remain anonymous, seeing this kind of foot traffic analysis as a competitive advantage, Fu explains. But not all.