I've spent the last couple of days wasting far too much time on Tallygram, a friend finder service that bills itself as "a better way to surf Facebook."
Tallygram comes to us from the folks at OkCupid, the dating site started by math geeks notable primarily for the clever ways it parses data (for example, beer drinkers have more first-date sex than non beer drinkers) and the incredibly revealing questions it asks OkCupid members (like, do you like to drink beer and have sex on the first date?) It then uses that information to determine the best matches for you.
Tallygram is the same basic idea. You log in using your Facebook credentials. Tallygram then asks you questions, you answer, then you rate other people's answers on a sliding scale. From that data it determines who's likely to be someone you want to meet, and who you'd really try to avoid getting stuck in an elevator with, if at all possible.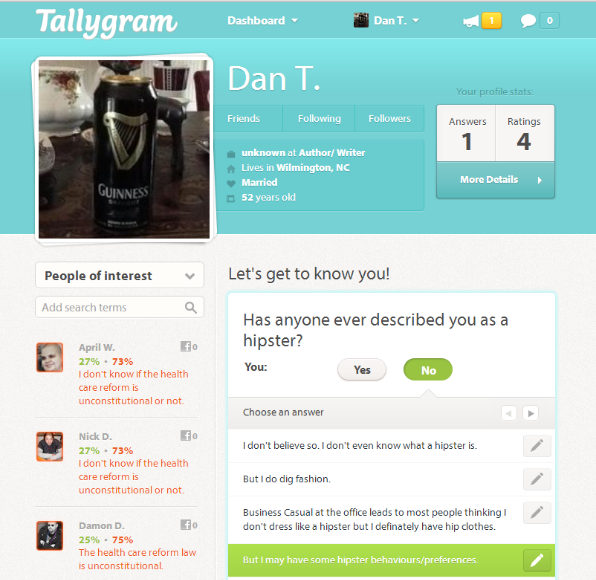 Among the first questions it asked me were how I felt about Obamacare, if smoking disgusts me, whether I am a cat person or a dog person, if Apple goes too far with its patent litigation, if I've ever been called a "hipster," and whether I prefer my toilet paper rolls coming over the top or out from below.*
Really, is there anything more you'd ever need to know?
It's not a bad concept. Why shouldn't you use the same techniques for finding snugglebunnies and drinking buddies? Ultimately, you're just looking for people you'd want to spend time with.
Of course, Tallygram's motives aren't entirely above board. You can use it to locate members of the opposite sex who are available, of a certain age, live within a certain distance from your house, and share your opinions on hipsters and puppies. Then you can friend them on Facebook with a click. From there, it's up to you, them, and nature to take its course.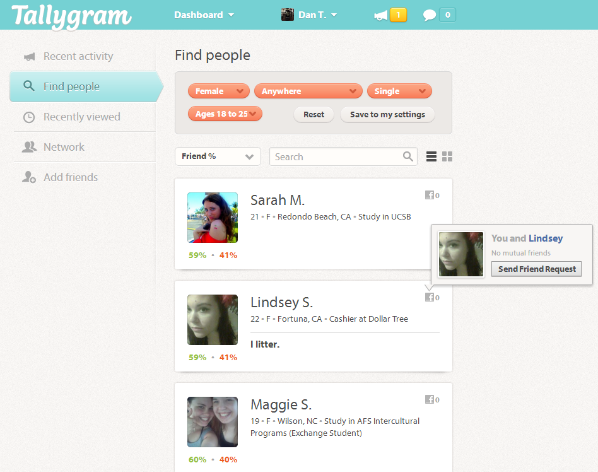 The other thing about OkCupid -- and by extension Tallygram -- is who it shares all that information with. In October 2011, Stanford researcher Jonathan Mayer revealed that OkC was inadvertently sharing information about its members' drug usage and sexual proclivities with Web tracking companies like Lotame and BlueKai. (Both of those companies claim they discard this information without using it.)
Unlike OkCupid, the "pre-beta" Tallygram doesn't carry ads or use code from tracking companies – at least not yet. And even if it did, it's not clear Tallygram would suffer from the same technical glitch that caused OkC to insert that data in the URLs it sent back to tracking companies.
But Tallygram, like OkCupid, is also a part of IAC – probably the largest Internet company most people have never heard of. IAC's stable of sites includes Match.com, CollegeHumor, Dictionary.com, The Daily Beast, Ask.com, and a bunch of lesser sites. Some, like Dictionary.com, are notorious for the number of tracking cookies they contain. IAC also has a rather liberal privacy policy in which it reserves the right to share all of your information with all of the companies in its network.
Think about that, the next time you are trolling for new friends on Tallygram, with or without benefits.
*For the record, my answers were I'm for it, yes, neither, yes, no, and don't care.
Got a question about social media? TY4NS blogger Dan Tynan may have the answer (and if not, he'll make something up). Visit his snarky, occasionally NSFW blog eSarcasm or follow him on Twitter: @tynanwrites. For the latest IT news, analysis and how-to's, follow ITworld onTwitter and Facebook.
Now read this:
The new MySpace: I like it, I really do. What's wrong with me?
What's the freakin' deal with all these LinkedIn endorsements?
Mickey Mouse knows what you did last summer