Google's long-rumored music service is finally here. But does it have what it takes to compete with a long list of competitors - namely Spotify?
If it wants to be more than a "me too" music service it's going have to try harder. Right now Google Play Music All Access, announced at Google I/O, doesn't have the same toe-tapping appeal as Spotify.
I've been testing Google's All Access service and have found lots to like, but when it comes down to the job of letting me enjoy music for a subscription rate of $10 a month, Spotify Premium (also $10 monthly) has the edge. If you subscribe to Google's All Access before June 30 you can locked-in an $8 a month subscription.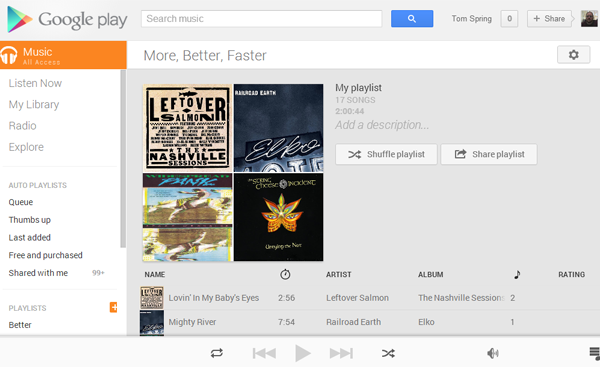 Am I being unfairly critical? After all, this is poor old Google's debut of a brand new service. No, I'm not. Subscription music services such as Pandora, Rdio, and Spotify have been around for a while now. It's not enough for Google to just match the competition. The bar to entry is higher and if Google wants to succeed it has to equal and best Spotify - the dominant on-demand and subscription music service with 24 million active users. Pandora has the most users with about 70 million active users, but unlike Spotify and Google's All Access, Pandora doesn't let you play tracks on-demand or download music for playback offline.
Here is my scorecard of Google Play Music All Access and how it rates against Spotify Premium in key areas.
Offline Playback: Spotify Win
One essential feature for me is being able to download tracks to my laptop or phone so I can listen to my music when there is no Internet connection. This comes in handy when traveling or if I want to avoid burning up my monthly wireless data allotment. Offline syncing is available with both Spotify and Google's All Access service, but with Google there are few hitches.
First off, with Google All Access you can't download tracks to a laptop or desktop for offline listening. By comparison, Spotify makes it easy to do. To sync music to your laptop or desktop simply right-click a playlist name and hit "available offline."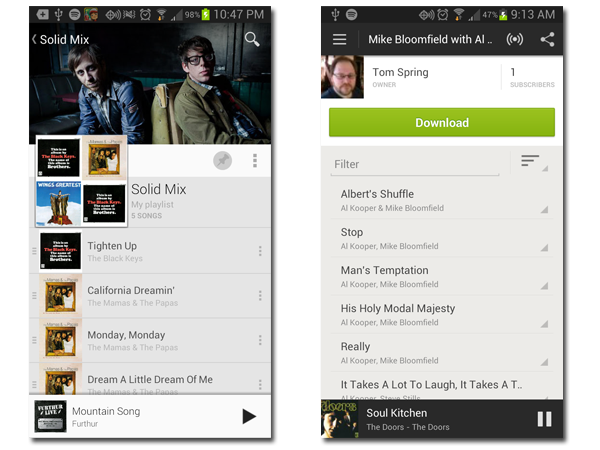 (Left: Google Play Music All Access mobile app. Right: Spotify mobile app.)
With the mobile version of Google All Access, which is rolled into the Google Play app, what you need to know is that a little inconspicuous pushpin icon at the top of your playlists is how you sync tracks for offline listening. Just give the pushpin a tap and the playlist downloads to your Android phone (Google doesn't support iOS devices yet). By contrast Spotify's mobile app puts a conspicuous Download button at the top of playlists. 
Streaming Radio: Google Win
One of my bad habits with any music service is playlist fatigue. I'm often too lazy to create new playlists, so I listen to the same ones repeatedly. That's why most music services offer "radio stations" that create playlists based on a genres or artists.
Between Google and Spotify, it's Google Play Music All Access that is the best. With Google's radio feature (available on the desktop and mobile) you can preview a list of upcoming tracks and delete or change the order of songs. Spotify's radio offering no such flexibility.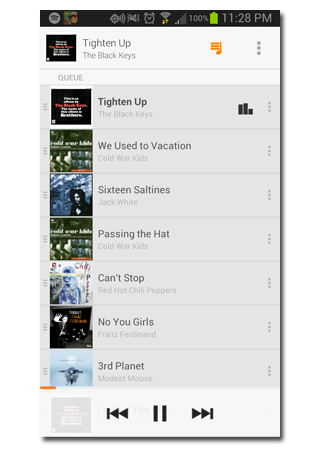 Music Discovery: Google Win
One of the best features with Google's All Access is something I never knew I wanted - music discovery. Thanks to Google's radio feature, mentioned above, I can click on an artist I like and a playlist is generated. Because I can peruse the playlist I can see what Google's thinks is related music. So far I've been impresses with Google's ability to find interconnected music and introduce me to new bands.
I think Spotify does a good job of generating radio playlists of related music. But Google's playlist preview feature is superior and has brought a lot of new music into my life in the short time I've been a Google All Access user.
Social Sharing: Spotify Win
Linking a streaming music services with a social network has its advantages and disadvantages. For those, like myself, it's a great way to share music with friends. Others find it intrusive. Neither Google or Spotify force you to merge your social life with your account, but you can.
Spotify users can share their playlists and what they are listening to with each other. You can even link a Spotify account with Facebook. If you so choose, you can have Spotify post to your Facebook news feed the music you're listening to.

Google's All Access service fails at social. This is ironic considering Google owns its own social network Google+. Google's social music face plant is a serious omission. Where Spotify can be tightly integrated with Facebook, Goolge's main social functions are limited to sharing individual tracks to your Google+ Circles.
Ecosystem: Spotify Win
I'm guessing it's only a matter of time before Google Play Music All Access becomes an app on Roku, Sonos, or Xbox devices - as Spotify is already. Give it some more time and Google service might even be available on iPhone and other iOS devices. But right now Spotify has Google beat hands down when it comes to supporting an ecosystem of third-party devices.
I couldn't imagine ditching Spotify for Google right now, considering how many devices other than my desktop and Android phone I access Spotify with.
It's not too late for Google to get a toehold in the music subscription market. Things will heat-up even more when Apple finally enters the streaming music fray. But until the Internet goliaths actually convince me to jump ship, I'm sticking with Spotify.
You can try Google Play Music All Access for free for 30 days, although you'll have to fork over your credit card information to do so.