Ubuntu Touch, the mobile-minded open-source operating system built by the community behind Ubuntu Linux, was quietly released to phone makers and developers earlier this month. What does Ubuntu Touch actually look like, and how does it run?
I was going to install Ubuntu Touch on my keep-around Galaxy Nexus phone and show you myself, until I came across this headline: "4 Reasons Why You Shouldn't Install Ubuntu Touch on Your Nexus". Very direct! Joey-Elijah Sneddon, proprietor and head writer at (actual title) OMG! Ubuntu!, has this to say about the Ubuntu-on-Android experience:
End users trying it out will find a number of key functions and features missing from this release ... Things like copy and pasting, spell checking, and contact and calendar syncing are all MIA.
Is that all? Oh, wait.
A sober reason to avoid Ubuntu Touch for now is the poor power management. ... My Galaxy Nexus can manage a good 24 hours before needing an electrical jolt, but on Ubuntu Touch I'm lucky if it lasts as long as 12.
Can you sum it up for us, Mr. Sneddon?
Ubuntu Touch on a Galaxy Nexus? It's a frustration bomb that's just waiting to explode…

Takeaway: Phone will meet wall should I install.
Okay then! But that's a somewhat older phone dealing with new systems not written to its specs. There is an ideal of Ubuntu Touch, however, one that Ubuntu hopes entices phone makers and app developers with its possibilities.
In a more exploratory post, Sneddon described Ubuntu Touch as "Beautiful, if basic". Take Ubuntu Touch apart from the phone-as-portable-desktop buzz and the daring dual-boot Ubuntu Edge phone that didn't quite get launched, and you have a unique approach to basic phone navigation and app design.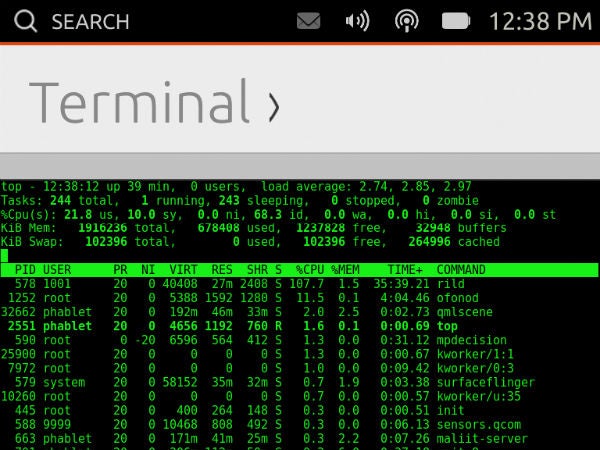 At sibling site Computerworld, Bryan Lunduke wrote that Ubuntu Touch, on a quad-core Nexus 7 tablet, is "almost awesome". Lunduke notes the same battery drain, seize-ups, and lack of apps, both core and third-party. Like Sneddon, Lunduke seems to appreciate the fresh take on navigating and designing a phone, but can't quite live with the actual software just yet:
In general, I think Ubuntu Touch "1.0" is off to a pretty stellar start. I dig the systems design and I'm more than a little impressed with how far it's come in the last six months alone.

Which leads to the big question: Will I keep using Ubuntu Touch on my Nexus 7?

Probably not.
Stay tuned. Ubuntu bugs tend to get squashed in short order, and if the statements by Ubuntu founder Mark Shuttleworth are true, the Touch team has its pick of hardware vendors to ship a first true Ubuntu phone. After the calculator takes less than 7 seconds to launch.