In my never ending quest to find an email program I like, and one that can handle the absurd amount of email I get, I gave Mailbird a shot about 12 months back. At the time the deal breaker was that it couldn't handle multiple accounts, but last week Mailbird remedied that.
Mailbird is a Windows email client geared toward reducing friction when it comes to handling your messages. The interface is designed to get out of your way and help you process emails as quickly as possible. It's filled with powerful keyboard shortcuts and helpful/intuitive UI elements. Unlike the traditional email client front runners - outlook, thunderbird, postbox - Mailbird is a modern platform aimed squarely at gmail and ymail users looking for a desktop client.
My first go with Mailbird left me frustrated. I liked almost everything about it save some minor bugs and I really wanted to use it. Unfortunately I am responsible for more than ten separate email accounts and Mailbird only allowed me to connect one. This meant I couldn't use it unless I wanted to run two email clients, which I did not. Mailbird reps promised that Multi-Account support was under development and coming within a few weeks. Sadly the development effort proved much more difficult than anticipated and the released date was pushed out many months.
On Thanksgiving day, Mailbird announced it was delivering Multi-Account support at long last. The first thing I did on Monday morning was download the client again and purchase the Pro subscription to give it a fair shot. Today I've got 8 accounts loaded up (ignoring a few) and am using the client full time.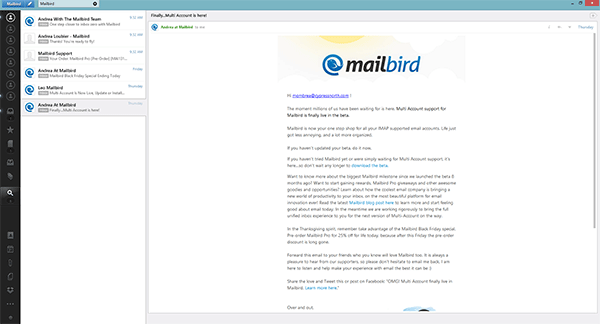 All of my accounts are Google Apps based and setup went pretty smooth. When adding an account, all it took was my email address and password to properly hook up the mailbox via IMAP, unlike Outlook which is a painful process of editing ports and mail servers.
I quickly hit the limit of the free version (3 accounts) and bought the pro version. To get the Pro version to enable, I just had to quit the program and open it again. In fact, I had to do that several times as the first load of mail retrieval seemed to lock up the app. It also locked on me when connecting the dropbox extension….and the calendar. But after a few restarts and allowing Mailbird time to load messages across all of those account, it stopped crashing and is working well.
I'm going to reserve judgement until I've put the system through its paces for a few weeks, but as of today I'm happily getting along.
My only major complaint so far is spell correction. The lack of spell correction in the quick reply field forces you to pop open the message in a new window, eliminating the usefulness of a quick reply. Spell correction in the compose window barely works in longer messages. It just completely stops checking some times. I've already had to copy/paste a long e-mail into Word to check the spelling - not cool.
Once I've spent more time with Mailbird I'll provide a review. In the meantime, it's looking promising.