When I was a youngster I used to toil away for days on IRC. It was my first taste of the real power of the internet. I built custom scripts, rolled around with bots, tested the waters of #warez, and communicated in a profoundly different way with people all over the world. This week I imposed a movement to Slack and away from Google Hangouts as our primary interoffice communication tool and it feels like coming home.
Slack is a communication platform that combines just about everything you need into one window. Everything is searchable (including context around the search) and the system integrates with a ridiculous amount of services. Slack originated from its founders homebrew IRC channels and scripts that they had put together to help the team work better while they were building a now defunct MMO. When that company shut down, they decided to build Slack - the communication tool they've always wanted.
Using Slack is a lot like using IRC, only it's designed for business collaboration. When you first join Slack, you're greeted by your team's slackbot (I can't tell you how happy that made me). The bot guides you through setting up your account and personalizing your experience. By default you start out with two channels, #general and #random. Channels are just like chat rooms in IRC. They're meant for specific topics and a specific audience. #general is for broadcast messages to your entire team for work related materials. #random is for goofing off, sending gifs, testing out your new custom emoji (which Slack supports), and whatever else.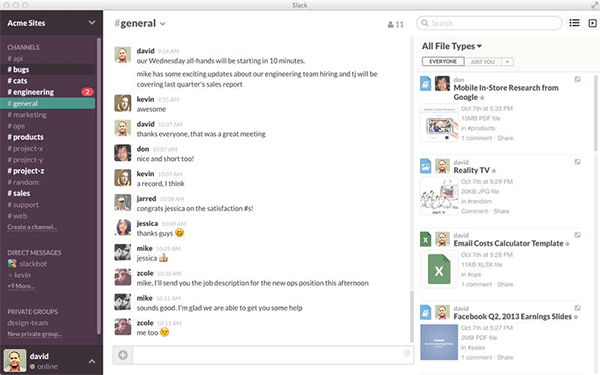 Like IRC you need to join a channel to start getting messages in it. This keeps you involved in only the topics you need to be included in. For us, we have general channels for #development and #marketing but also project/client specific channels where only the folks involved in that effort congregate. It's a great way to organize instant messaging. There is also @mentioning capability, direct messaging (a la IM), and private groups. There are even guest and restricted accounts so that clients can be included in a channel (Standard Plan).
This stuff alone makes it a lot more useful than simple IM but there is so much more it does or can do for you. For instance, you can upload a file or photo directly as a message. You can even copy/paste an image into the message. That file will be searchable and able to be referenced for all time. You can also comment on that file, applying much needed context to your messages. Hook up dropbox or google drive integration and you can provide a direct link to an item in dropbox which can be opened or downloaded right from the chat.
You can create a full post, similar to a blog post (with markdown support) that will be inserted into the channel as an object which can be commented on and provide formatting. This is great when you have a long document to share or an email, or anything where formatting is important.
You can create code snippets! This is one of my favorite features. We're always talking about how painful it is to quickly send code to one another and now that need is fulfilled.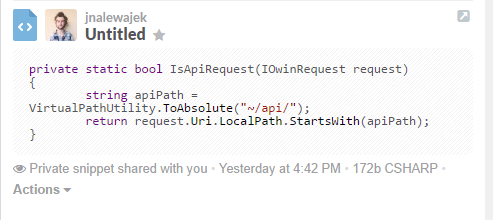 The number of integrations is crazy and they're on the move to add more. One that I'm particularly interested in is HubBot integration. HubBot is a scriptable chat robot (just like the good old days) that you host up and integrate with your slack account. You can then program the bot to do whatever you want, for instance run a poll for lunch every day around noon. GitHub, SVN, and other version control integration is also appealing. You can establish a post-commit hook to trigger a message in a channel when code has been checked in on a project etc.
The application itself is pretty amazing. It's clear that a ton of thought went into the interface and it's loaded with thoughtful touches. It's hard to describe until you use it. It's also a very intelligent app. Everything you send into it will be analyzed for context and if the app can figure out a way to save you time, it will. For example, if you paste a link to an image, youtube video, spotify playlist, soundcloud track, tweet, and more - the actual resource will be pulled into the chat that you can interact with on the spot. It's incredibly convenient.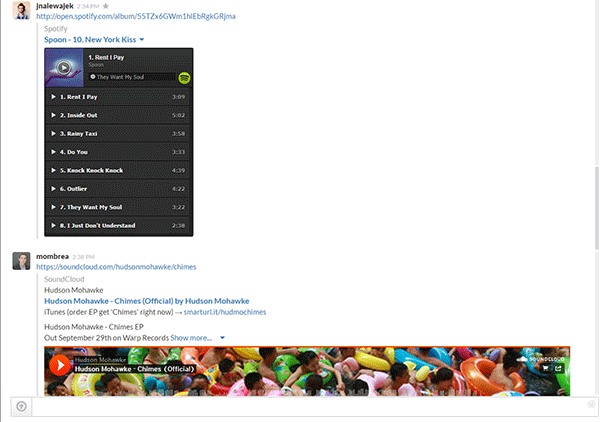 In addition there are excellent mobile apps for iOS and Android, a Mac desktop client (Windows on the way), and a Chrome extension for using the system. All of the above mentioned things combine to great effect but I'm still not doing Slack justice. You really need to try it out to see why it's special, and it really needs to be an all or nothing change to Slack with a group of people or an entire outfit for it to work. Some groups are even saying they were able to dump email for Slack. While I can't imagine doing that for my business, dumping Hangouts was easy and the improvement has been dramatic.
Give it a try and see what you think. Upload some gifs and create some custom emoji. Integrate with the services you already use. Explore what's possible with the application and it will be hard to go back to vanilla IM again.