Recently in the README File, we learned how to share Windows 10 files with Mac OS Yosemite as a local network alternative to sharing files in the cloud. In this piece, we will examine how to share files in the opposite direction: Yosemite sharing files with a Windows 10 machine.
So, if you wish to share your Mac OS X files with Windows 10 on your local network follow these steps.
Change Mac OS X file share settings
In System Preferences, open Sharing.


Note the section of text below the Computer Name field. In this example screenshot, Yosemite is telling me that my machine can referenced on my local network as MacbookPro.local. Next, select the folder you wish to share with Windows in the Shared Folders section, and ensure a user has Read & Write permissions enabled in the Users section.
When you are finished noting the machine name, selecting shared folders and changing user permissions, click the Options button.

A dialog windows opens, please ensure both Share files and folders checkboxes have been checked and a user account with read/write permissions is selected.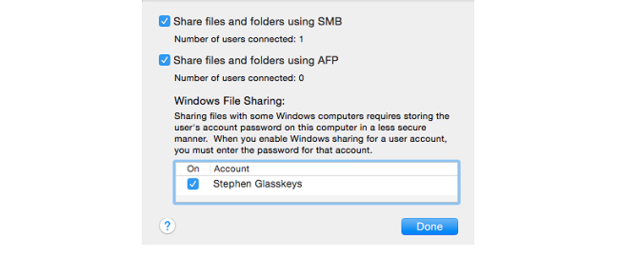 Drive mapping in Windows.
Open Windows Explorer, right-click Network and select Map network drive.


The Map Network Drive window opens, select Drive letter and type the network name of your Mac in the Folder field. This is network name we found earlier in the Yosemite Sharing window. In this example I typed \\macbookpro.local\ in the Folder field and clicked the Browse… button.
If you wish to reconnect to your Mac every time you sign-in, check the Reconnect at sign-in box.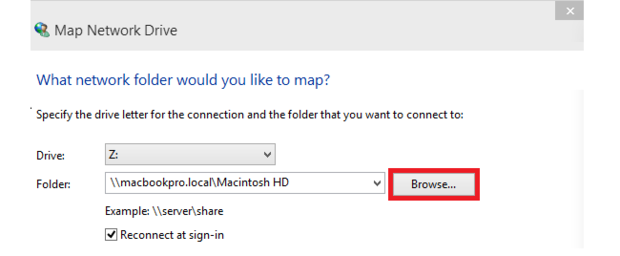 Your Windows 10 machine is now able to "see" your Mac's folders. I selected my Glasskeys home folder inside the Browse for Folder dialog window. The folder selected is mapped to the drive letter chosen earlier -- in my case Z.

Windows also needs to know how to connect to the shared folder as a Mac OS Yosemite user. So please keep in mind to enter the username and password of the Mac user with read/write permissions before clicking the OK button.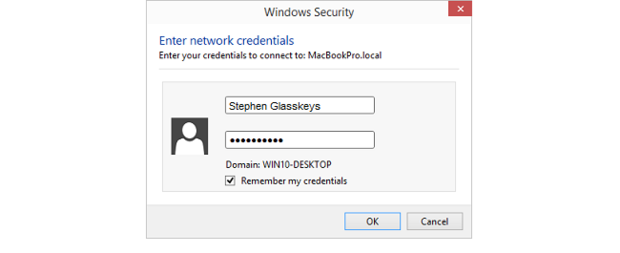 I see a mapped drive
Windows Explore now has a drive mapped to a folder found on our Mac OS X Yosemite machine!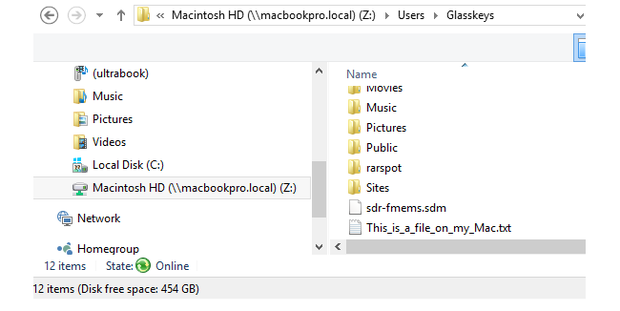 This article is published as part of the IDG Contributor Network. Want to Join?