Updated
The best laptops: Premium laptops, budget laptops, 2-in-1s, and more
Our top picks feature the best tech advances in portable PCs, from new CPUs and GPUs to new materials.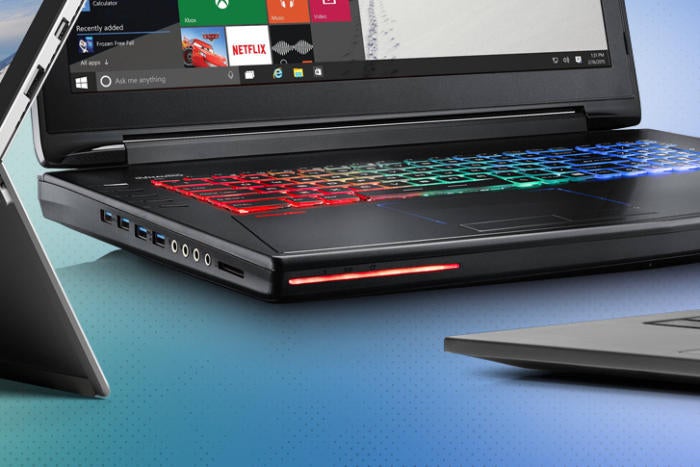 The best laptops of 2020 are about to be turned upside-down. With the launch of AMD's Ryzen 4000 mobile CPUs, Intel finally has a formidable rival—and we expect competition to be fierce. At the same time, a lot of mainstream users actually don't need to wait for Ryzen 4000 and Comet Lake H), and they stand to get good deals on laptops with existing processors that already have solid performance and great battery life. On the gaming side (where the GPU matters more than the CPU), you can already find discrete GPUs in thinner, lighter, and faster gaming laptops, and more news there is coming soon. Check out the latest news and reviews below. 
Laptop buyer's cheat sheet
Our quick-hit recommendations
Latest laptop news and reviews
Laptop news and reviews are heating up, because of new AMD and Intel mobile CPUs coming soon. Here's the latest. 
The LG Gram 14 ($1,400 at Costco) may not be the fastest laptop we've seen, but with its Intel Core i7 Comet Lake CPU, it offers solid mainstream performance in a durable 2-in-1 design. It also boasts a bright full-HD display with impressive viewing angles. But the Gram really comes into its own in the battery life department, making it a great choice for productivity-minded professionals who don't want to be tied down by an AC adapter. Read our full review.

The Lenovo Yoga C740 2-in-1 (currently $790 on Lenovo.com) is one of the most impressive 2-in-1 laptops we've seen in its price range. Weighing in at just three pounds and jammed with nifty features, it packs in plenty of productivity pep, and it can last the whole day without its AC adapter. That's why it's our new pick for best budget convertible. Read our full review.
Best thin-and-light laptop
It's official: You can have both performance and light weight in the same laptop, and Dell's new XPS 13 7390 is here to prove it. With its 6-core Intel Core i7-10710U CPU, this thin, light machine (available via Dell.com) has actually outpaced bigger workhorse models.
And no, before we get you too worked up: The XPS 13 7390 and its Comet Lake-U CPU aren't going to outpace a current workstation with, say, a smoking-fast, state-of-the-art Core i7-9750H. But it is the first ultraportable laptop to actually outrun older 7th-gen "H"-class CPUs in heavier laptops, including those in its XPS 15 cousins.
The amount of performance in this amount of portability was simply unheard of just, well, earlier this year. Read our full review. 
[$1,620 as tested; available on Dell.com]
Best laptop under $500
If you're looking for an inexpensive quad-core laptop that's less than three-quarters of an inch thick, the Acer Aspire 5 A515-54-51DJ might fit the bill. This slim laptop packs in more than enough power for everyday computing tasks, and its quad-core performance is respectable, if shy of awe-inspiring. A fingerprint reader and nearly all-day battery life will appeal to productivity-minded road warriors, although they'll have to settle for a display that's on the dim side. Read our full review.
Best 14-inch/15-inch workhorse
Workhorse laptops need to have enough CPU performance and screen real estate to keep you productive, plus good battery life and portability for long days on the road. Dell's XPS 15 9570 (available on Amazon) sets the standard: It's thin but packed with features, fairly light, and its 6-core Core i7 will keep up with you all day. So will the 97-Whr battery life, which lasted a whopping 14 hours in our video rundown test.
The much-lauded XPS design hasn't actually changed much from prior generations—why mess with near-perfection?—but one highlight is an honest-to-goodness fingerprint reader. Read our full review.
[$1,666.69 at time of review on Amazon. Also available, of course, on Dell.comRemove non-product link]
Runner-up
The Lenovo ThinkPad X1 Extreme (available from Lenovo) come in a close second to the XPS 15 9570. It packs a six-core Core i7-8850H, GeForce GTX 1050 Ti Max-Q GPU, and a 15.6-inch 4K screen into a package that's a scant four pounds—a full half-pound lighter than a similarly configured XPS 15 9570. That's pretty awesome. Unfortunately because it's slightly slower than Dell's XPS 9570, and pricier than comparable laptops, it misses the top spot. Corporate types may actually prefer it nonetheless because of its vPro-capable Core i7-8850H CPU and other IT-minded perks—and have a fat budget to absorb the premium. Read our full review.
$1,395 to $3,727 ($3,149 as tested.)
Best convertible laptop
HP's latest Spectre x360 13t has something to say to other thin-and-light laptops, which, it seems, are all about taking good things away from you. Where others say No, the HP Spectre x360 13t simply says Yes. You want a standard M.2 SSD? Got it, the Spectre x360 13t says. NBA-level of travel in your keys? Sure thing. USB Type-A port?! Of course the Spectre x360 13t has that, too. When we head-to-head compared the HP Spectre x360 13t to the Dell XPS 13 2-in-1 7390, another leading convertible, the HP came out on top. Read our full review.
Runner-up
Dell's Latitude 7400 2-in-1 (available via Dell.com) is a 14-inch business laptop that delivers all-day battery life and performance. It achieves a simply incredible 18 hours of battery life using a powerful Intel 8th-gen Whiskey Lake processor, and it offers a full complement of ports plus a slightly gimmicky feature called ExpressSign-in (yes, it's really spelled that way). While our review unit clocked in at a whopping $2,800, the starting price is $1,599, meaning you could make prudent downgrades to the configuration to fit your budget. Read our full review.
Best budget convertible laptop
The Lenovo Yoga C740-15IML (currently $790 on Lenovo.com) is one of the most impressive 2-in-1 laptops we've seen in its price range. Weighing in at just three pounds and jammed with nifty features, the slim, sturdily built, Yoga C740 packs in plenty of productivity pep, and it can last the whole day without its AC adapter. A bright, Dolby Vision-enabled display plus Dolby Atmos sound provide plenty of eye and ear candy. A physical camera shutter (which, unfortunately, is a little tough to slide open and closed) and a fingerprint reader help to bolster security.
In a world where high-end laptops no one can afford get all the attention, and budget laptops can be a bucket of compromises, it's nice to see a mid-priced laptop that has so much going for it. The Lenovo Yoga C740 easily earns our Editor's Choice award and our top pick for budget convertibles.
[$900 MSRP; $790 as reviewed]
Best 2-in-1 / tablet / hybrid laptop
This category originally started out as the best "Surface" category because, well, for a time, there was nothing like Microsoft's 2-in-1 / tablet / hybrid device. Competitors picked up the pace, and the Lenovo Miix 520reigned for over a year. No longer.
The Surface Pro 7 represents Microsoft's return to form, both with an up-to-date 10th-gen "Ice Lake" processor inside, but also a tweaked, modernized design that recognizes that USB-C is the wave of the future. Some legacy ports have disappeared (adios, MiniDisplayPort) but otherwise Microsoft's tablet retains its traditional light weight and form factor. Sadly, a pen and Signature Type Cover are still extra. Read our full review for more details. 
[$1,499 SRP as reviewed, excluding keyboard and pen; currently $1,199 on Microsoft.comRemove non-product link]
Keep reading for our top picks in gaming laptops and more.
Shop Tech Products at Amazon