Updated
The best laptops: Premium laptops, budget laptops, 2-in-1s, and more
Our top picks feature the best tech advances in portable PCs, from new CPUs and GPUs to new materials.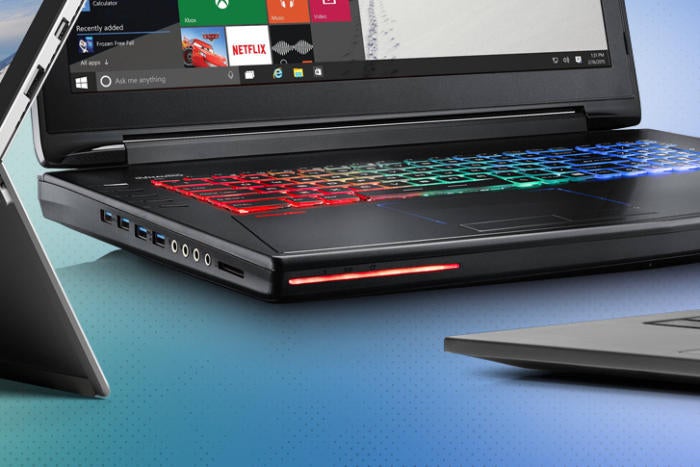 Best gaming laptop
The MSI GS75 Stealth challenges that old PC laptop proverb that says you can have high performance, and you can have a 17-inch screen, and you can have light weight—but you can only pick two. Sure, at five pounds GS75 is hardly "light." But along with its 17.3-inch display it packs an 8th-generation 6-core CPU and Nvidia's brand-spanking new GeForce RTX 2080 Max-Q graphics inside.
The MSI GS75 is one of the first laptops to debut with Nvidia's RTX graphics for laptops, announced in January at CES. As you'll see in our benchmarks, the MSI GS75 is a (relatively) lightweight laptop with a heavweight wallop. The initial signs seem to point toward a lighter, faster future for mobile PC gaming.   Read our review.
[$2,999 MSRP as reviewed; available from MSI]
Best budget gaming laptop
Yes, you can buy a budget gaming laptop for less than $1,000, but we think the Acer Predator Helios is worth the stretch to a cool thou. We've actually tested several iterations of this laptop, including our most recent review of the bestselling Predator Helios 300. Our main reason to convince you to depart with an extra $150? Faster graphics. With most PC games today, the number-one priority is still the graphics card. The Predator Helios 300's GeForce GTX 1060 is a big step up over laptops with GeForce GTX 1050 GPUs. Add in easy upgrade paths, and a 144Hz panel for smoother gaming, and you have a budget gaming laptop that balanced power and affordability surprisingly well. Read our full review.
Runner Up
HP's Omen 17 gaming laptops have a reputation with us that can be summarized in four words: solid performance. Shockingly affordable.
That's particularly true for the Omen 17. Is it a looker? Debatable. Is it the best gaming laptop? Definitely not. But HP always manages to cram more hardware than you'd expect under the hood, then sell the Omen 17 way below market rate.
I'm not sure how HP pulls off this bit of wizardry, but it's made the Omen 17 a hit. And the trend continues, as the 2019 model we're testing (poetically monikered the 17-cb0040nr) packs in some of the latest and greatest CPUs and GPUs for hundreds of dollars less than the competition. Read our full review.
[MSRP $1,680 (but the selling price is usually less) on Amazon.com]
Best portable gaming laptop
The MSI GS65 Stealth Thin 9SD we've reviewed (available via MSI.com) is similar to the MSI GS65 Stealth Thin 8RE that preceded it, but with new hardware: Intel's 9th-gen Core i7-9750H, along with Nvida's GeForce GTX 1660 Ti, which turns it into the GS65 Stealth Thin 9SD. (If you want your RTX hardware, you can get that in the pricier GS65 Stealth Thin 9SX.) Although it's heavier than before, it still beats many competing laptops with the same hardware, which tip far closer to five pounds. Read our full review.
Runner-up
Razer isn't exaggerating when it calls its Blade 15 the "world's smallest 15-inch gaming laptop." It's nearly as small as the popular workhorse Dell XPS 15, yet it offers blistering gaming performance. 
The Razer Blade 15 that we reviewed features a 15.6-inch, 1920x1080 IPS 144Hz factory-calibrated screen, an 8th-gen 6-core Intel Core i7-8750H, 16GB of DDR4/2677 in dual-channel mode, Nvidia's GeForce GTX 1070 Max-Q (optional GTX 1060 Max-Q), and a 512GB Samsung M.2 PCIe SSD
While it's impressive to get a six-core 8th gen Core i7-8750H and GeForce GTX 1070 Max-Q performance into a compact chassis, note that it's densely packed and feels heavy for its size. If you can deal with the additional weight, the payoff may well be worth it. Read our review.
[$2,600 MSRP as reviewed]
Best luxury laptop
The HP Elite Dragonfly is a corporate laptop that is clearly executive-class. Designed for the boardroom rather than the racetrack, don't expect blazing speed (though performance is still good). What you will get is a solid configuration dressed in a beautiful cerulean magnesium body that's fingerprint-resistant. Its stunning 2.2-pound weight means you'll barely feel it in your bag. Add some premium options, amazing battery life, and corporate-level security—and let's not forget the truly classy design—hmmm, maybe this laptop is too good for your boss? Read our full review.
[$2,100 MSRP as reviewed. Available on HP.com]
Best overall Chromebook
Google's Pixelbook Go is a perfectly good Chromebook, and that's exactly what the company set out to create. It offers a careful balance of quality features and economical compromises for a reasonable $649 starting price. And it's a darn sight better than the typical bare-bones model. If you're committed to the Chromebook universe, this is a laptop worth buying. 
[$649 MSRP; available via Google]
Best budget Chromebook
Most Chromebooks are budget models, but the Asus Chromebook Flip (C101PA-DB2) has an extra talent: It can rotate backward into a 10.1-inch tablet. Now that Chromebooks can run Android apps, too, the Flip is a versatile as well as affordable machine.
The Chromebook Flip is powered by the new OP1, a no-name processor made by Rockhip with help from Google that will handle everything you throw at it just fine. Just note that the Flip is a bit small for day-long productivity with adult-size fingers, though fine for the hands of children.
 [$300 MSRP; available on Amazon]
Best MacBook
Apple's laptops might not be game-changing or cheap, but they don't need to be. Paying more for the same kind of hardware you'd find in a Dell, HP, or Asus laptop is the entry fee for access to macOS and its integration with iOS devices.
Of the options available, we think that the $1,499 13-inch MacBook Pro (available at Apple.com) provides the best balance of value and performance. While the MacBook Air (2018 model) is more affordable, this MacBook Pro features faster hardware and a higher-resolution screen. It also has a far better keyboard than the smaller and lighter 12-inch MacBook. But watch this space!—let's see what happens with the new MacBook Air, which was announced on March 18 and is already getting some good reviews. 
Apple
This particular model offers a 7th-generation 2.3GHz Intel Core i5 processor, 8GB of memory, 256GB of flash storage, Iris 540 integrated graphics, a 2560x1600 screen, and two Thunderbolt 3 ports. If you want Apple's new Touch Bar as a feature, you'll need to upgrade to the $1,799 model. The $1,799 model also offers a faster 8th-generation 2.3GHz quad-core Core i5 processor, a Touch ID biometric sensor, and two additional Thunderbolt 3 ports.
Note: The $1,799 model replaces a dual-core model with one sporting a quad-core CPU. The new model probably offers a boost in performance with multi-core apps, but we haven't gotten one in to test. That being said, there's probably still a good bang/buck value with the $1,499 laptop.
The main downside to the MacBook Pro is that its ports are all USB Type-C connections. While they all support the Thunderbolt 3 spec and thus allow you to use them for DisplayPort output, charging, and data transfer, it does mean you'll need to buy adapters or a dock to use USB-A devices and wired LAN connections.
You can read more about the MacBook Pro and its recent upgrades at our sister site, Macworld.
[$1,299–$2,799 MSRP; $2,799 as reviewed by Macworld.]
This story, "The best laptops: Premium laptops, budget laptops, 2-in-1s, and more" was originally published by PCWorld.
Shop Tech Products at Amazon