An incredulous claim
Recently, I read a Google+ post by blogger Stefan Svartling about a technique he used to transform ProPopulo -- an app used to download public domain books -- into a BitTorrent client for the iPad or iPhone. I must admit I was initially skeptical, because I've read plenty of online claims that never delivered.
So, like the last incredulous claim I investigated, I decided to verify it myself. But as it turns out, Stefan wasn't exaggerating.
Testing and experimentation
In Stefan's YouTube video, he opened the ProPopulo app, selected Librivox from the Websites menu, and opened Librivox's Twitter link. He then searched for Google using Twitter's search feature, finding and opening a link to Google.com. Stefan then explained it would then be easy for a user to search for any BitTorrent site.
His technique proved successful, so building on Stefan's work, I opened ProPopulo and began experimenting with alternative methods and discovered a simpler technique using Archive.org: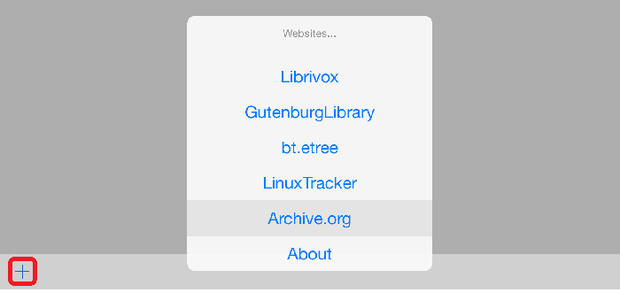 After Archive.org page opens, type "Google.com" or the URL of a BitTorrent site into the Browse History box. I chose to enter Slackware.com into this field -- I admit it's not the first page normally associated with BitTorrent -- but the official website supports BitTorrent as a legitimate way for users to acquire Slackware Linux.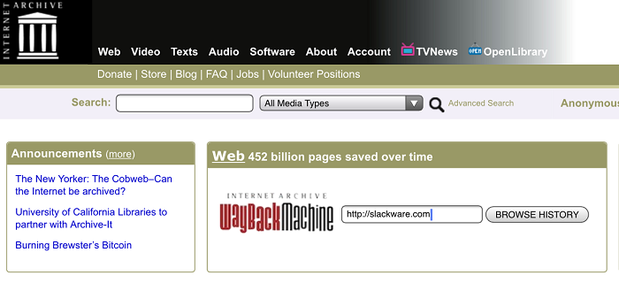 Next, tapping the link at the top of the results page is all that's needed:

From Slackware's torrent page, I selected an ISO torrent link, this prompted ProPopulo to start downloading the file:

Next, I tapped the torrent entry in the Downloads list -- this opened a Details screen containing technical information about the selected torrent.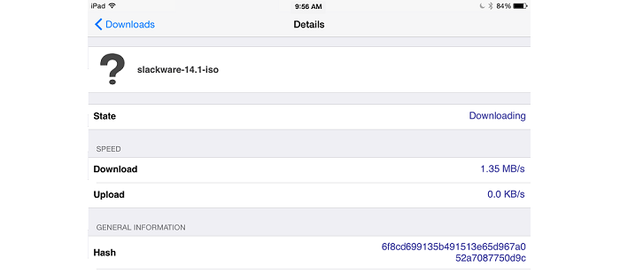 After the torrent finished downloading, I paused the torrent, connected the iPad to my Mac, then opened iTunes. In iTunes, I clicked Apps and the ProPopulo app. Found in the ProPopulo Documents section, the appropriately named Downloads folder contained the freshly torrented ISO file.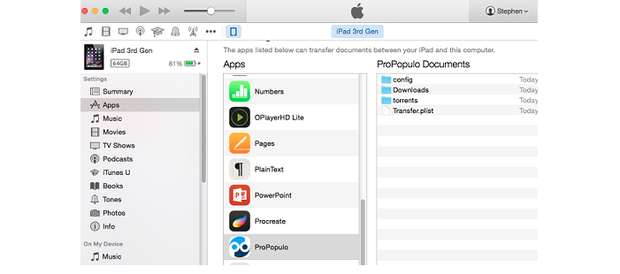 Finally, after saving the download to a new folder and ejecting the iPad in iTunes, I deleted the torrent file and data from the iPad. This was accomplished by sliding the list item to the left and tapping the red Delete button.

A useful tool
So, thanks to Stefan's discovery, we can all use ProPopulo on the iPad or iPhone to download open source tools, software and public domain books -- even an entire Linux distro -- all using the BitTorrent protocol.
This article is published as part of the IDG Contributor Network. Want to Join?