About nopCommerce
nopCommerce is an open source ecommerce solution for Microsoft's ASP.NET platform. The software contains both a catalog frontend and an administration tool backend, enabling the administrator to create a fully customizable shopping cart.
Requirements and Installation
The official nopCommerce page lists the following minimum requirements: Windows 7, ASP.NET 4.5 and MS SQL Server 2008. For testing purposes, I used a Windows 7 machine running SQL Server 2008 R2 and Visual Studio 2012 -- a configuration that closely matches the minimum stated requirements.
The nopCommerce solution can be downloaded either as a web application or source code. I downloaded the version 3.50 source, extracting the source RAR to my Visual Studio projects folder:

If building from source, you may need to download .NET Framework 4.5.1 before opening the solution. Once you are satisfied your machine meets minimum requirements, you can read instructions here on how to build and install nopCommerce from source.
I've listed these simple installation steps below -- a prime example of nopCommerce's ease-of-use philosophy:
Open the solution in Visual Studio
Re-build the entire solution
Publish the "Nop.Web" project from Visual Studio. When publishing ensure that configuration is set to "Release"

These same steps are also listed in the Deploying.Readme text file found inside the extracted project folder.
During publish, an installation settings page will open in your default browser. In the Store information area, enter nopCommerce's default admin credentials: admin@yourStore.com account with admin as the password. I also ticked the Create sample data checkbox.

Further down in the Database information section, I selected Use SQL server option, and entered the server and database name and credentials of a SQL user with admin privileges.

Using nopCommerce
After the database is built and the installation finishes you may then run nopCommerce, starting it in Visual Studio or browse to the page deployed to your IIS server. If nopCommerce was installed with sample data, you will see a powerful ecommerce website pre-populated with sample products, images and pricing data.
I found nopCommerce responsive and snappy, even running on the older hardware of my Windows 7 test machine.
To access the admin menu, login using the admin credentials used during installation. The Administration link will then appear at the top of the page.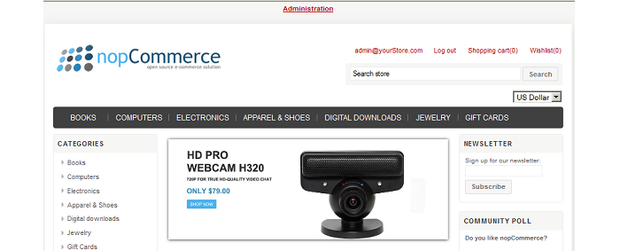 Clicking the Administration link opens a dashboard page displaying store statistics. But most users will find Manage Products area (pictured below) most useful, as it allows admins to add, edit, remove and categorize all products available for sale in the store. Technical details concerning the store itself can be changed in the Configuration and System areas.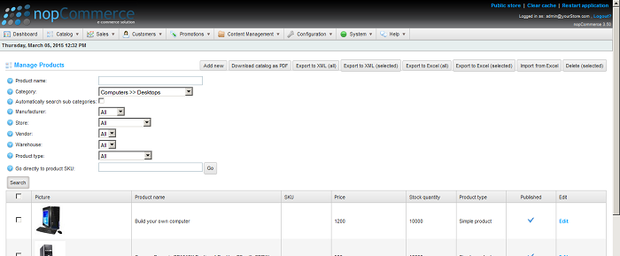 Bottom line
Because of its popularity, nopCommerce boasts an active user forum and developer community. This in turn has fueled the growth of a healthy ecosystem of third party businesses selling nopCommerce plugins and themes. For peace of mind, premium support contracts are also available from nopCommerce or its solution partners.
So, if you need to quickly create and deploy a full featured ecommerce site -- with a minimum of fuss -- nopCommerce deserves a hard look.
This article is published as part of the IDG Contributor Network. Want to Join?