As capable and powerful as Microsoft Outlook has always been, the email program has never really played well with other apps besides other Office programs. Compared to the gazillion apps and services you can link Gmail with, Outlook seemed behind the times. This week, though, Microsoft announced new partnerships with Evernote, Yelp, IFTTT, and Wunderlist, as well as other apps, to make Outlook (and you) more connected.
An Uber add-in lets you set up a ride reminder for any calendar event within Outlook, swipe the notification and confirm the Uber ride, and have your car on the way for your next meeting or event. You can use the PayPal add-in to send money to people directly from an email, the Boomerang add-in to schedule emails to send at a specific time, and, my favorite, clip emails from Outlook to Evernote.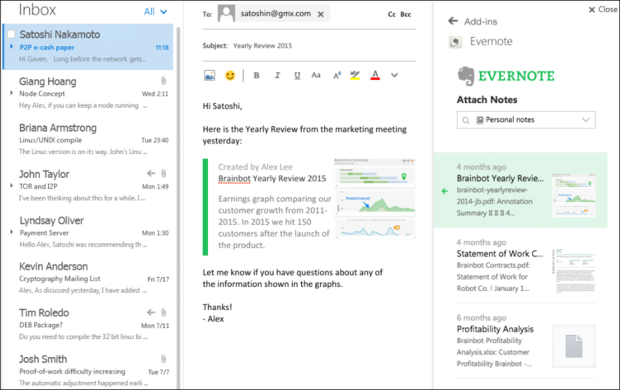 Yelp, IFTTT, and Wunderlist integrations are coming soon.
These add-ins are or will be available for Outlook 2013 and Office 365 (Outlook on the web) users and will be coming to Outlook.com as well. The changes are rolling out over the next several weeks--worth the wait and also probably about time. Hopefully even more add-ins will soon follow. 
[via Neowin]